Well well well… we have BEGUN!
We started IOMFF2015  in fine style last night at a packed Noa Bakehouse for a fascinating, engaging and mind-expanding talk from world famous artist Roger Dean, who talked about everything from industrial design, furniture and architecture, through to his now legendary album artwork and logos for the likes of Yes and Tetris, through to developing screenplays and 3Dimensional virtual worlds to progress his art into spectacular filmic fashion.
You can see some fabulous photos of the event on Steve Babb's website here. Steve is documenting the entire festival for us, so keep checking back for more photos as the fest goes on.
TONIGHT we are holding an out door screening of The Goonies with Silent Disco headsets (sold out within 24hours); here's some important information for those of you attending.
TIMINGS


'Doors' from 7pm. There will be music coming through your headsets from the time you arrive. We'll be running some short films from about 7.30pm, then the main feature will start at 8pm.
We'll be having a good old fashioned Intermission about half way through the evening, give everyone a chance to grab some warming foods and drinks from our wonderful food outlets (see below).
THE SKIES…
Dare we say it's looking good for dry night?! However:

It's also looking like there may be a strong breeze and while the amphitheatre is somewhat sheltered, we suggest you're prepared. Bring layers, gloves, hats for later in the evening. Or make it super cosy and bring a blanket to wrap up in!
Bring something comfy to sit on (like a cushion – no chairs please, as that could block the view of those behind you) Please be aware the event takes place on uneven ground, so wear appropriate footwear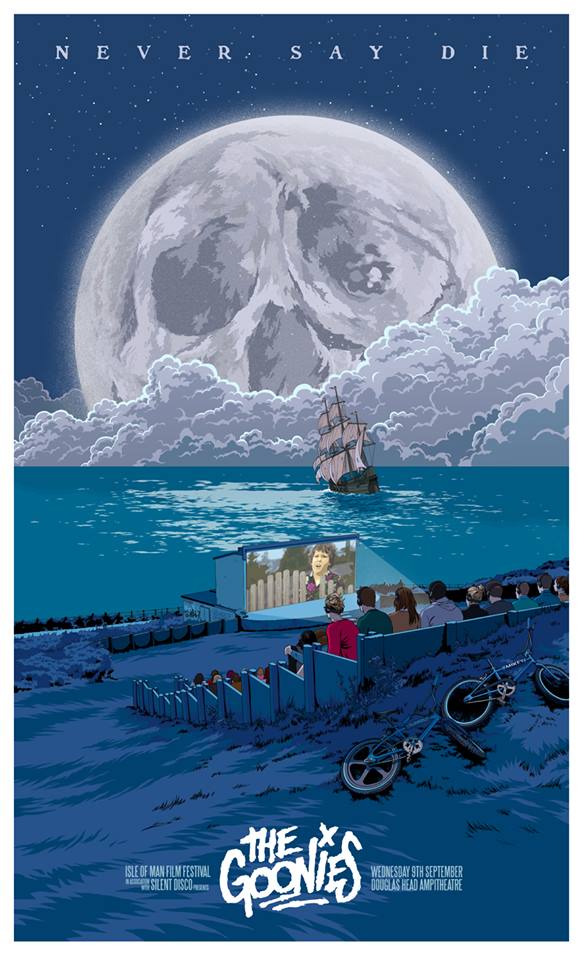 We have some fantastic goodies you can spend your gold coin on at the event: –
Fabulous food to keep you warm from the inside (Betty's Pie and Mash, Flo's Goonies themed cakes and hot drinks, Apple Orphanage manxmade juices and presses); during the intermission you can refuel, while 'Shhh! Silent Disco!' will be playing some movie themed tunes through your headsets
You will have an exclusive opportunity to pre-order Adam Berry's stunning, unique IOMFF2105 Goonies poster – only 50 copies printed – which even features the amphitheatre and audience (£10 deposit required)
Goonies goody bags will also be available (for the kids and BIG kids!) with Adam's superb treasure map, some American candy, a poncho in case of showers and IOMFF badges
We will also have supercute Goonies sticker packs designed by Seen & Hird
OK, a few housekeeping rules! 
Please DO NOT bring glass bottles to site
Please DO NOT not bring dogs
Please DO dress up – fancy dress (and truffle shuffling) is encouraged and may even be rewarded!
We will have some parking available on Marine Drive, which will be closed to public tonight, but we suggest carsharing to avoid excessive traffic. Parking attendants will guide you on arrival.
If you know someone who is attending this evening, we'd appreciate you passing on this information.
Many thanks for your support and we look forward to seeing you later for a MOVIE ADVENTURE UNDER THE STARS!
IOMFF Crew